About Us

At Clinic Nutrition, we do things a little differently.
We are a liquid supplement company based in Sawbridgeworth in Hertfordshire.
Established in 2018 alongside our sister company working with medical clinics, we work primarily with professionals in healthcare and beauty to provide cost-effective, nutrient-rich, delicious liquid supplements.
Lessons from sports science and sports nutrition.
With a history working with medical clinics in spine care, physical therapy and sports science, we understood the role of supplements to support rehab programmes.
Many "sports drinks" contain large quantities of dissolved ingredients. This makes them an efficient way to deliver nutrients into the blood stream.
With tablet supplements, people have to take quite a cocktail of tablets in order to get nutrients. Or, under closer examination, many people take a tablet without really seeing that the nutritional content of the tablet is minimal to the point of having very little merit.
A far more efficient way to support health is to deliver nutrients in a liquid. This allows us to combine a breadth of nutrients in quantities which surpass what is possible with tablets.
(Tablets are typically limited to a maximum of 1,000mg of nutrients per tablet or have a broad mix but minimal individual nutrient quantities).
Welcome to Clinic Nutrition.
We supply Cartonica for joint health, Cutizana for aesthetics and soft tissues and Vitaliti for general wellbeing,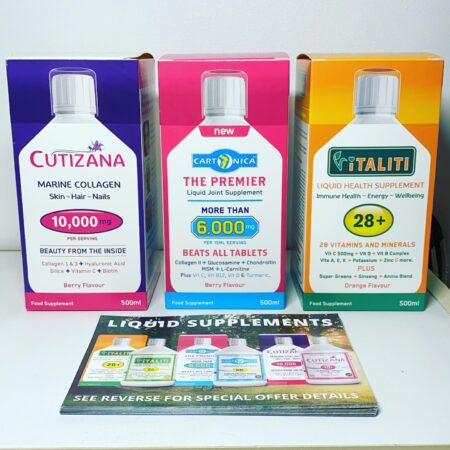 No Hype
Unless our diets are extremely poor, most people can live without supplements. 
However we believe strongly that our happiness and performance in life is made of marginal improvements.
The right supplement can improve our state and our health.  We can go about our day with more vigor, with more freedom to move and we might look a little better.
It's about being the best version of ourselves.
We avoid hype. We are passionate about what we do but we will never overstate the benefits and present customers with miraculous products.
Nutrition plays a hugely important role in the quality of our lives.
Equally many of us like to enjoy certain pleasures and we believe everyone should be allowed  to indulge from time to time.
Eat Healthy, Stay Active is our motto, with a little of what you fancy from time to time.
If you have any questions, we are happy for you to call us on 01279 510 552.
Thank you for your interest, we hope you enjoy our products.